How to Clean Your Carbonator 3
As a proud owner of the Carbonator 3, we're sure you're hoping to keep it as shiny and perfectly functioning as its first day out of the box. Here's how to get cleaning!
Before we start, there are two key tips to keep in mind:
- No harsh chemicals. Never use aggressive cleaning solutions on the Carbonator. Kitchen spray detergents, acids, powders, polishing liquids or similar cleaning solutions can leave permanent marks on all Carbonator finishes.
- Display with care. Be sure to choose the right spot for the Carbonator in your kitchen. Don't place it too close to a cooktop, as hot oil or grease may leave stubborn marks on the Carbonator's finish, which can be quite difficult to remove.
Let's get started!
Day to Day
To avoid dust collecting on the Carbonator's surface, wipe it with a damp cloth a few times a week.
Deep Clean
Give your Carbonator a deeper cleaning every once in a while, depending on your frequency of use. Although our Carbonator is sturdy on the inside, it needs a gentle approach on the outside. Clean with care to maintain its flawless look for years to come.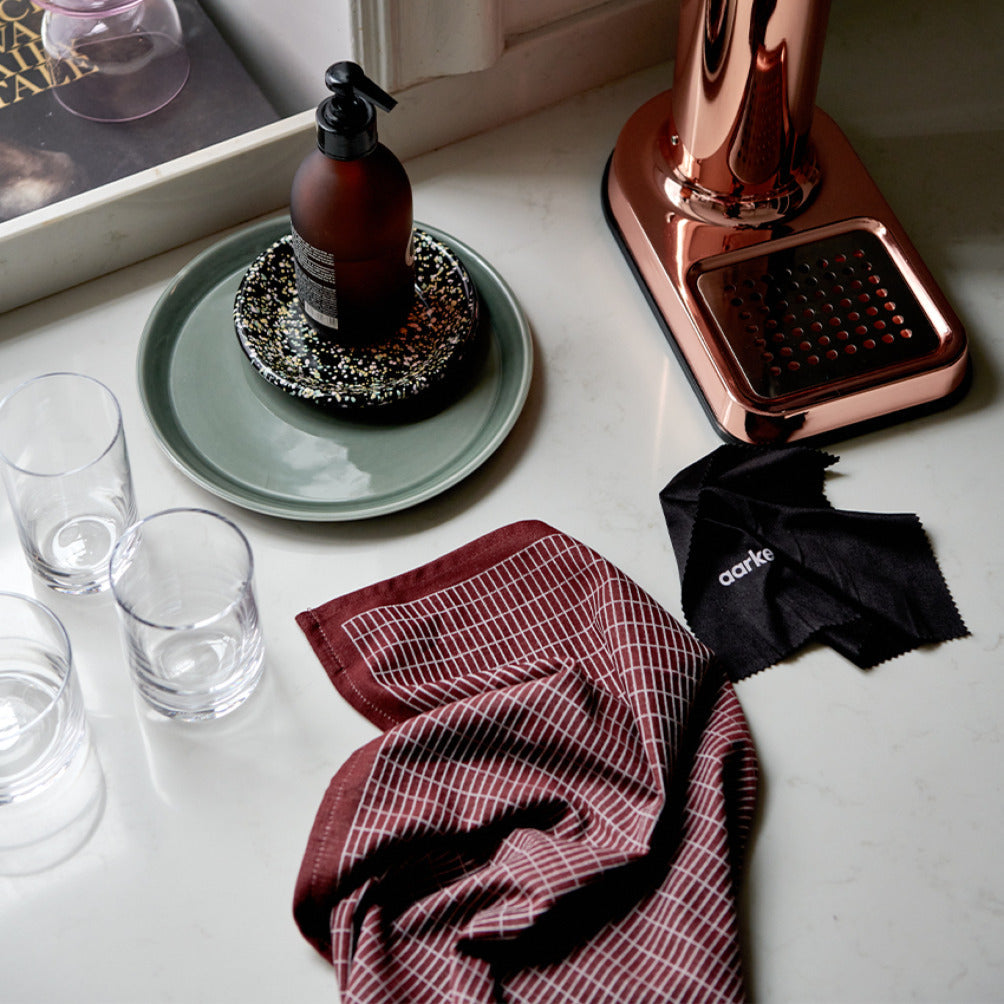 What you'll need:
* Soft cleaning cloth without bristles (like a dishwashing sponge, microfiber cloth etc.)
* Regular dishwashing liquid with no acids or mild soap
* Dry, clean towel
* Aarke polishing cloth (comes in the box with your Carbonator)
1. Prep
Place the drip tray cover aside—then, move the Carbonator to a flat surface close to the sink. No need to lay the Carbonator down. For cleaning convenience, just leave the Carbonator in the same position as it always stands on your countertop.
2. Clean
Run the cleaning cloth under water and add a few drops of dishwashing liquid. Gently wipe down the Carbonator's handle, body and drip tray, applying more pressure to stains as needed.
Next, rinse the cleaning cloth to get rid of soap—once the water runs clear, wipe the soap off the Carbonator from top to bottom. Wash the drip tray cover the same way. You may need to wash and rinse the cloth with clean water several times in the process to make sure the Carbonator is free of soap.
For Carbonators with Matte Finishes (Matte Black and Sand): After washing, squeeze all excess water from the cloth and use it to collect as much moisture as your can from the exterior.
A few more things to keep in mind:
- Do not place your Carbonator directly under running water! It may get into the mechanism and damage the machine. Only use a damp cloth to wash the exterior.
- If the water in your region contains considerable levels of lime, it is recommended to wash the drip tray more often using the method above to avoid buildup and stubborn stains.
3. Dry & Polish
For a Polished Finish (Steel, Gold, Copper, White and Black Chrome): Take a dry towel and thoroughly wipe the Carbonator absorb any remaining moisture. Once dry, put back the gas cylinder and drip tray. Done! For a finishing touch, polish the Carbonator with your Aarke cloth to remove fingerprints and make it extra shiny.
For a Matte Finish (Matte Black and Sand): Take a dry towel and gently pat the Carbonator's surface to absorb any remaining moisture. If some spots are difficult to dry completely, it's fine to let the surface air dry—it may just take a few extra minutes. Put back the gas cylinder and drip tray. Polish the metal parts with your Aarke cloth for extra shine.
Congratulations, your favorite countertop appliance is now clean and ready for proud display and bubble production.