100% Renewable CO2 On Demand
The Cylinder Loop is our smooth, circular set-up to help ensure you never run out of gas. It's a hassle-free exchange service that takes care of your empty cylinders. Sign up through the Cylinder Loop website and you'll always have 100% renewable gas when you need it with no commitments.
Shop Now
FAQ
I can't access my previous account, how do I login?

We have recently moved our Cylinder Loop from aarke.com to aarke.us. To access your existing subscription, please begin by creating a new account using the same email you used when you signed up. You can manage your subscription from your account portal. You will now be able to make changes to your address, payment method, print your return label, and order a new exchange box.
I mailed in my exchange, but I haven't received replacements.

We're so sorry to hear that! If you mailed in your empty cylinders and haven't received a notification or refills within 7 business days, contact us for assistance.

A few reasons for this include an issue with the post office scanning your label or an issue with your subscription payment method.

We will be able to initiate a new exchange order on your existing subscription.
Do I need to create an account to sign up for The Cylinder Loop?

Yes. You will be asked to create an account at checkout to proceed with your order. This is required to enable us to securely store your payment method and automatically charge it when you decide to exchange your cylinders in the future.
I purchased my Aarke CO2 from Amazon. Am I signed up for The Cylinder Loop?

Purchases of CO2 made from Amazon are not part of the subscription service. To begin a subscription, please sign up on our CO2 product page by filling out the questionnaire with your zip code and the amount of cylinders you own to generate a new subscription order.
Can I send back only one cylinder?

No. You will need to send back two cylinders in your return box every time.

If you only return 1 cylinder we will need to charge an additional $9 ($51 total) for the missing exchange canister.

We recommend having a 3rd cylinder to have while you're waiting on your replacements.
Is The Cylinder Loop a subscription service?

Yes, The Cylinder Loop is an on-demand subscription service. This means that after you sign up for the service and place your first order, we securely save your payment details. This way, you won't have to place any additional orders on our website when you want to exchange your empty cylinders.

The difference from a traditional subscription model is that you (and only you) control how often your cylinders are exchanged. You will only get charged after you send us the empty cylinders – and the full cylinders are on their way to you. Only you decide when this happens depending on your sparkling water consumption.

If you do not return your cylinders to exchange, you will not be charged. There are no monthly or yearly fees -- you only pay for what you use.
How often should the cylinders be exchanged?

There is no specific timing for a cylinder exchange in The Cylinder Loop. It depends entirely on how often you carbonate and drink sparkling water.
How many cylinders can be exchanged at a time?

In The Cylinder Loop, only 2 empty cylinders can be exchanged at a time with our exchange box. We recommend having 3 cylinders in total at home, so you can still have one in your Carbonator, while you're waiting for the other two to be exchanged.
How do I know if the gas cylinder is empty and ready to be exchanged?

The water will no longer become bubbly when you're going through the usual carbonation steps. Before exchanging the empty cylinder, or putting it into the exchange box, you can double check that it is completely empty by depressing the center pin with a spoon. Any remaining CO₂ will be removed then.
I have your exchange box. How do I order an exchange for my 2 empty cylinders?

There's no need to manually place an exchange order on our website. The Cylinder Loop exchange works like this:

1. Once you have two empty cylinders, you screw the valve caps the cylinders came with back on – and put the cylinders back in the box they arrived in (the exchange box).

2. On the back of the box, place the included shipping sticker over the existing shipping label. Then put the box with your two empty cylinders in your mailbox or give it to a USPS carrier.

3. Once we receive a confirmation that you have posted empty cylinders, we will automatically charge you $42.00 for the 2 full exchange cylinders and send you a tracking number for them. That's it! The full gas cylinders will be delivered to you with FedEx fast shipping.
I own a gas cylinder from another brand. Can I join The Cylinder Loop and exchange it for a full Aarke CO2 cylinder?

Usually, yes. But it depends on the condition and model of your gas cylinder. We accept standard 400-425g (14.5 oz) /60L gas cylinders approved for use with sparkling water makers.

We do not accept cylinders that are damaged. We do not accept the Soda Stream Quick Connect cylinders with the pink ring.

In all other cases, yes – you can exchange your empty cylinder from another brand to get started with The Cylinder Loop.
What carrier are you using for exchange?

For The Cylinder Loop, FedEx will send out the full cylinders to you, while USPS sends the empty ones to us.

Please note that if you order the Carbonator together with the start exchange box and CO2 cylinders, the parcels might arrive at different times due to the packages being sent from different locations.
How long does it take for full cylinders to arrive after I have given the box with empty cylinders to USPS?

Since the cylinders classify as hazardous goods, they must be shipped with ground transportation which effects the delivery time. Once USPS confirms to us that they have your exchange cylinders, we initiate your cylinder order. The delivery time will then be 2-5 days. When this new order is on its way, you will receive an e-mail and a tracking link.
Does The Cylinder Loop work in my area?

Please enter your ZIP-code in the questionnaire on a Carbonator or the CO2 product page.

If not, please know that we're working on getting The Cylinder Loop available in the entire US as soon as possible. Please check back soon!

We are unable to ship CO2 to Hawaii, Puerto Rico, and Alaska.
What can I do if I decide to no longer use The Cylinder Loop service?

It's easy. Just stop giving the exchange box with empty cylinders to USPS and you will never be charged for an exchange again.

If you no longer want us to store your payment information, contact us and we will delete your data from our system. If you are a registered user, your account, purchase history and quick checkout address information will also be deleted, since they are connected.
Is gas eligible for discounts and promotions?

No. Aarke gas is not a discounted item and discount codes will not be applied to gas in your cart.
2 Cylinder Exchange
Mail in 2 CO2 Cylinders at a time, receive 2 refilled CO2 Cylinders to your door. This is how it works.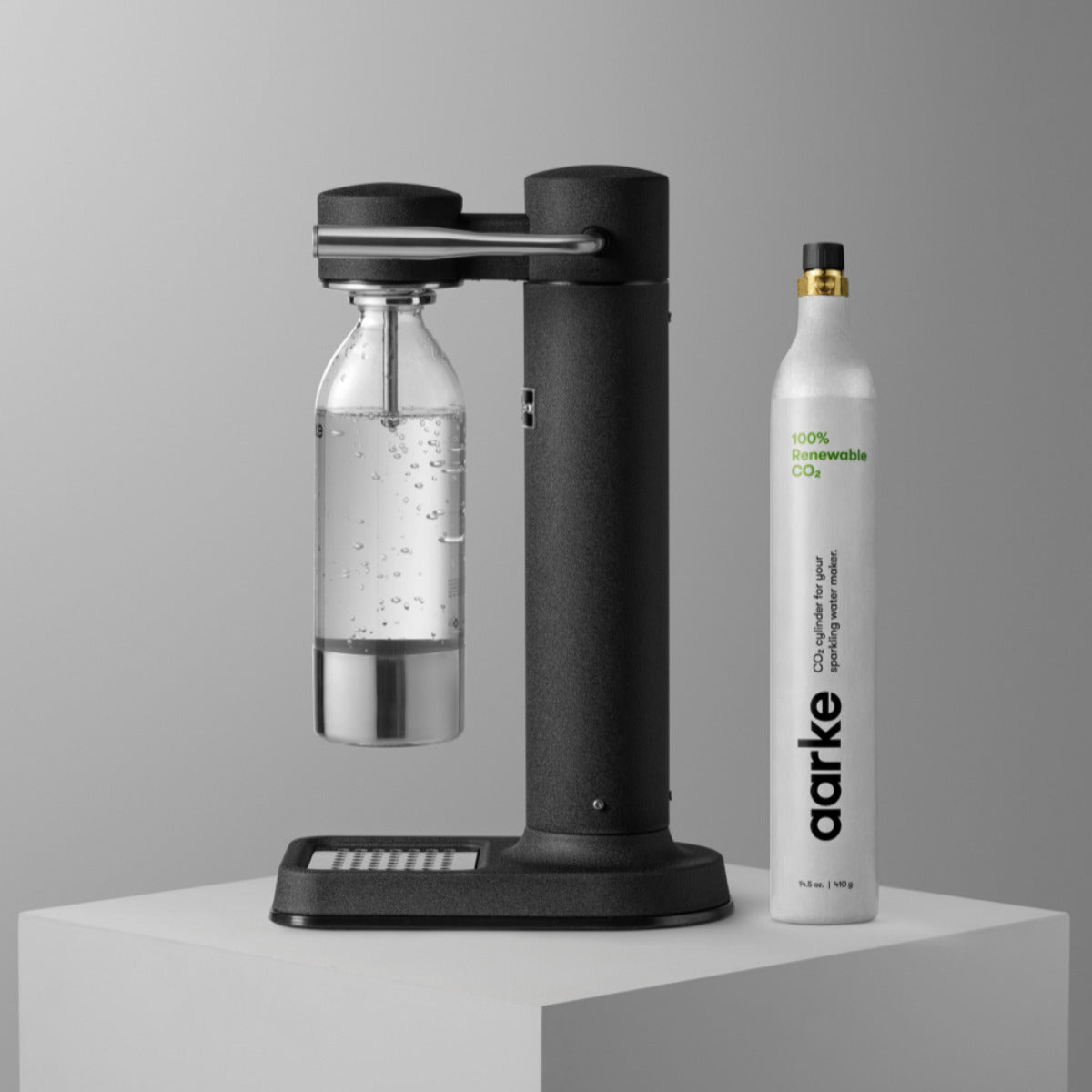 - Available in the domestic United States
- Only $21 per exchange cylinder
- Click-free exchange
- No monthly fee or binding period
- Free shipping
Get Started
There's a difference between gas and gas
Our CO2 is exclusively produced from renewable resources within the agricultural industry in the US. This means that the CO2 comes from sources already in the eco-system. We're not adding any unnecessary CO2 gas to the atmosphere.
This renewable CO2 should not be confused with the CO2 gas extracted from underneath the surface of the Earth, isolated from our atmosphere for millions of years. Instead, our CO2 derives from biomass; corn-based bioethanol production that is continually replenished. It's then purified and certified to become a fresh, food-grade gas for sparkling water makers.